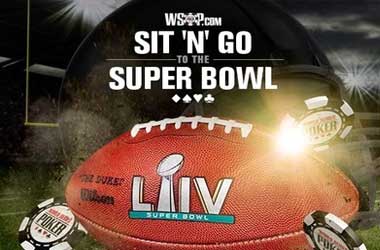 Caesars Entertainment is teaming up with the National Football League (NFL) in a new promotion that will see one lucky online poker player win a Super Bowl prize package worth $10,000.
This comes as exciting news to WSOP.com players in Nevada and New Jersey as the NFL is arguably the most popular sport in the country and the Super Bowl is a mega event.
The winner will be determined via a prize draw, and players have the following options to earn entries:
To take part in this promotion, players will have to first take part in Sit n Go tournaments with at least a $1 buy-in. If they win, they will automatically get an entry into the prize raffle. New players will also receive their own entries by making their first deposit through the code "MIAMI". Lastly, anyone taking part in the Sunday $100,000 GTD tournament at WSOP.com will also be awarded with raffle entries.
Those keen on getting their hands on the cool Super Bowl package should try and earn as many entries as they can by January 19 as this is the last date for the promo.
J Lo And Shakira To Headline Super Bowl 2020
Apart from two free tickets to the 54th Super Bowl in 2020, the package also covers $3,000 in travel expenses, which will be credited to the lucky winner's WSOP.com account. The Super Bowl has been the most-watched US television program in recent years.
The huge event is made even more spectacular each year through the performances of some of the world's most famous and best-selling music artists, alongside the appearance of a number of surprise guests. The halftime show of the 2020 Super Bowl will be headlined by Jennifer Lopez and Shakira.
WSOP Vice President of Corporate Communications Seth Palansky said the lucky winner of the prize package courtesy of WSOP.com and NFL will be able to experience the enormous thrill and top-notch entertainment taking place at the Hard Rock Stadium in Miami on February 2, 2020, as well as several NFL-themed offerings set to take place at the venue.
First Casino Promotion Between Caesars & NFL
This promotion is the first joint promotion launched by Caesars Entertainment and NFL since announcing their partnership in January 2019. The two brands are expected to come out with more exciting campaigns soon should this current promotion proves successful. This would mean that online poker players at WSOP.com could be up for more amazing prizes and offers in the near future, considering that the WSOP and NFL are two high-profile brands in the US.