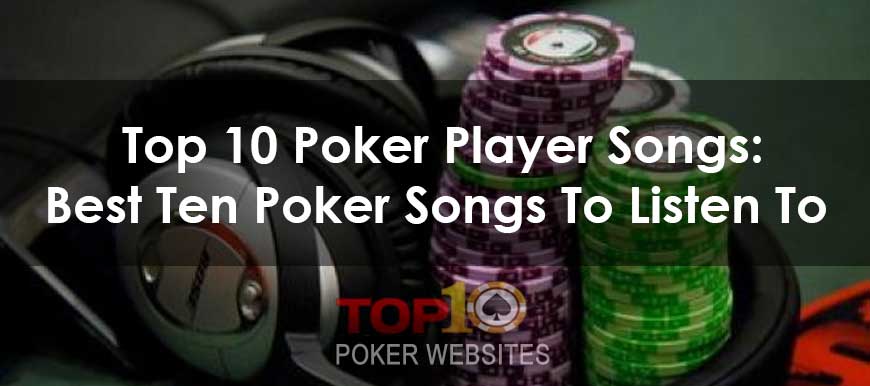 You will often find many Poker players sitting at land based Poker tables with a set of headphones on and they will be listening to a range of different music tracks whilst playing real money Poker games and are taking part in Poker Tournaments.
Whilst you may think that listening to music could be very distracting to a player when they should be concentrating their efforts on playing each hand dealt out to them, many players often find it can help with their game play and will therefore play all of their favourite music tracks when playing Poker.
Below are the top 10 songs and music tracks many Poker players tend to listen to when playing, maybe it will be worth you getting yourself a copy of some of these songs and music racks and have them playing in your headphones when you next sit down to play Poker, you never know it may bring another dimension to your Poker play!
1. To Deserve You by Deja Vu featuring Tasmin
InahiaDeejay
Originally used in the Queer as Folk (UK) soundtrack, this funky hard house cover of the Bette Midler song is brilliant for keeping concentration up. The steady bass and gripping melody make it exceptionally easy to concentrate on your hand while also listening to the track. The funky bass rhythm and the use of minimal instruments also make To Deserve You a very pleasant piece to play along to.
Word of warning however, like most of De ja Vu's remixes, it is highly addictive!
2. You and I by Crystal Fighters
Crystal Fighters
This is a very heavy track by the Crystal Fighters. The bass is enough to keep you focussed, while the treble is well balanced with the vocals perfectly matched to the track.
Featuring heavy strings using the drone technique, you won't have to spend any time concentrating on it and you can have it playing in the background without it interfering in your session.
3. Poison by Alice Cooper
AliceCooperVEVO
Having heard this song from Alice Cooper several times, this is one of the many songs that poker players can listen to. Like most of the songs in this list, its bass line is heavy without being so bassy it's destroying your eardrums.
The quick tempo allows the mind to move at the same pace as the music, and you'll find decisions easier to make as your mind is naturally moving at the speed of the tempo. Also, listen up for the top note thrown in there for good measure!
4. Survivor (I Will Survive) by Destiny's Child
DestinysChildVEVO
This one really shouldn't work, however it does, but I suppose when you have 20+ musicians working on a single piece of music, you can make anything work! As one of the ultimate classics, 'I Will Survive' has been injected with some new life thanks to the hybrid with Destiny's Child's 'Survivor'.
The bass is well balanced, while the vocals have been expanded to the point where a philharmonic choir would struggle filling all the parts. This is another inoffensive track which makes great background listening when playing poker.
5. Poker Face by Lady Gaga
LadyGagaVEVO
This had to be featured! The heavy synth along with the unique timbre of Lady Gaga's voice work in perfect harmony providing an edgy track with a quick tempo, which will in turn keep you tuned in. The greatest thing about 'Poker Face' is continuous repetition, which means the brain doesn't have to contemplate what's entering your ears.
6. Hush Hush/I Will Survive remix by Pussycat Dolls
ThePussycatDollsVEVO
This is a very good remix of a song by The Pussycat Dolls, offering a 90's funky house feel, yet still remaining loyal to its RnB roots, the consistent tempo, complete with a Samba type rhythm, you'll most likely find yourself tapping your foot while playing! Don't worry though, it's not distracting.
7. Top of the World by The Cataracs feat. Dev
TheCataracsVEVO
It's not often I'd put this onto a musical list, however, this song by The Cataracs, firmly falls in to the Schlager genre, and actually enjoyed a lot of play time in a lot of European Clubs, the funky beat coupled with a very simple melody will keep your mind sharp as the beat never changes, and at around 120bpm in 4 over 4 time, it's managed to secure itself into our list of music to listen to when playing poker.
8. Musica by Fly Project
Fly Records
This is another unusual one by Fly Project, however, as we're getting in to summer, we need to have at least one song that features heavy use of Spanish! This traditionally rhythmic Samba offers a very complex bass line, however, due to the way the final production was mixed down, the end product is exceptionally easy on the ears!
9. Makin' Luv (Club Radio Edit) by BBX
Kontor.TV
If you've ever heard any of BBX' stuff, you'll know that it is heavily geared towards the club scene, however, due to its heavy use of orchestral strikes and heavy repetition in the actual manuscript, you'll find this is a very good song to keep your mind alert without bombarding you with unnecessary sound, like overly heavy harmonies and complex syncopations.
10. Waterfall by Fran Marin feat Nalaya
Alex Quapper
As I'm on a roll with Euro pop/dance, I may as well finish as I started! This is one of the relatively unsuccessful songs that should have done much better, similar to David Guetta and Kelly Rowland's 'Commander'.
It offers a solid and well-rounded track with Nalaya's voice really coming through strong, which as she's a soprano is a feat in itself!
The track features heavy bass and synth; however, if you listen carefully you will hear the tinkle of the ivories from time to time. As the track is Euro pop, it is pretty fast, I clocked it at around 120bpm, however you'll also notice as with most of the tracks in this list, it is in the Minor/Flat Major, which for some reason makes the listener more in tune with it, and when you're in tune with the music, your body works at the same pace.