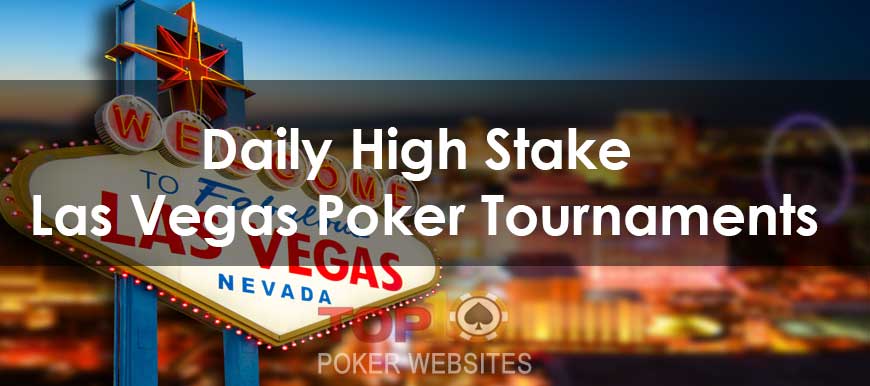 It will probably not surprise you to learn that some of the daily poker tournaments which boast the most expensive buy-ins are being held in some of the more palatial casinos in Las Vegas. Should you be planning a trip or vacation to Las Vegas in the coming days, weeks or month and you are seeking out some high stake poker tournaments to enter then this guide will be of interest to you.
As the most popular base game in land based poker tournaments is of course No Limit Texas Hold'em Poker then we have listed below each casino in Las Vegas that have that game on offer via their high stake daily poker tournaments.
You will find listed below the casinos where these daily poker tournaments are being held, the starting time and other information including the buy in amount and just how many starting chips you will be allocated once you have purchased your buy in!
Aria Casino – There are two daily high stake poker tournaments being held each day of the week at the Aria Casino and these take place at 1.00pm and 7.00pm. The entry fee is $125 and for that you get 10,000 in tournament chips allocated to you.
Bellagio – You will need to be at the Bellagio Casino for 5.00pm If you wish to take your place in their daily high stake poker tournament, and when playing here you will be charged a $125 entry fee and will be given 10,00 in tournament chips.
Caesars Palace – You are going to have the choice of four different poker tournaments when you choose to visit the Caesars Casino in Las Vegas. They have a tournament running at 10.00am in the morning which will cost you $100 to entre and in that tournament you are given 8000 in tournament chips.
Later in the day at both 2.00pn and 5.00pm they have a $125 buy in poker tournament on which 10.000 tournament chips are allocated to you once you pay the buy in fee. Then at 9.00pm each day of the week they have their $150 No Limit Texas Hold'em Poker Tournament and when you take part in that tournament in exchange for that $150 buy in you are allocated 12000 tournament chips.
Please check out the websites of any of the above Las Vegas Strip casinos for additional information on any of their daily poker tournaments.