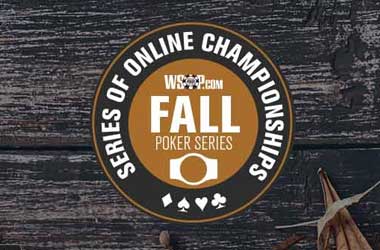 There is a lot of poker action happening in October with live poker tournaments and online poker tournaments taking place. Online poker players in Pennsylvania are focusing on the WSOP PA Fall Championships which started on Oct 10 and will run till Oct 26.
Since the WSOP was running WSOP online bracelet events for poker players in Nevada and New Jersey, the operator decided to come up with the WSOP PA Fall Championships that featured over $1 million in combined guaranteed prize money
The response hasn't been as positive as the WSOP would have liked, based on the first few days of action at the WSOP PA Fall Championships. The first 8 events that ran saw only 2 of them meet their guaranteed prize pool which meant that the WSOP had to pitch in and cover the overlays in the remaining 6 events.
We must point out that all of the events that resulted in an overlay, missed their guaranteed prize money by a big percentage. To show you how bad the overlays have been, the event that had the lowest overlay was the $20 Turbo Deepstack which failed to even reach 60 percent of its guaranteed prize pool.
The $20 Turbo Deepstack came with a $10,000 guaranteed prize pool but only recorded 319 player registrations which brought the prize pool to $5,806, resulting in an overlay of $4, 196.
WSOP Pays Out Over $79K In Overlays
When we look at the first 8 events, the total guaranteed prize pool was $175,722 but the WSOP ended up way short on player registrations and ended up collecting $96,588 which left them in the hole for $79,134. The WSOP needed to get a total of 5,150 player registrations across these 8 events but only ended up getting 2,908 player registrations.
If we are to go by the first 8 events, the WSOP PA Fall Championships is not looking very good for the WSOP as the overlays could swell very quickly. However, it is looking great for online poker players in Pennsylvania as they can capitalize on these events with less competition at the table and bigger prize pools to take advantage off due to the guarantees.
Some of the events to watch out for over the weekend include the Player Appreciation Tournament on Oct 17 which has a $75,000 guarantee and the DeepStack & Super Addon taking place on Oct 15 with a $15,000 guarantee.