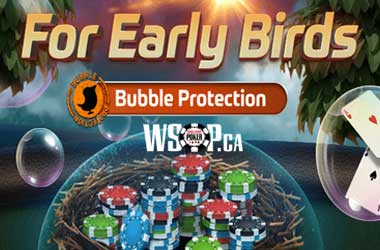 Summary
WSOP Ontario is the only online poker room offering Bubble Protection in the province
The feature comes from GGPoker and is available to players who register early
Bubble Protection can cover up to 10 spots
WSOP Ontario continues to come up with exclusive features for players in the province, the latest being "Bubble Protection" which allows Ontarians to get at least their buy-in back if they burst the money bubble.
It comes as no surprise that WSOP Ontario has rolled out Bubble Protection. The platform is powered by GGPoker, which was the first to offer the feature to players on the dot-com market. With the feature now active on WSOP Ontario, players can make sure they won't leave the game empty-handed even if they fall one spot short of making the money. But it comes with one condition – they must register before the game starts.
Register Early to get Bubble Protection
Bubble Protection is available to Canadian poker players who register early – meaning they must already be in the game before it begins. Early birds will automatically have their buy-ins returned to them by WSOP Ontario if they finish on the bubble.
The feature covers all buy-ins, including rebuys and re-entries. The only requirement is for players to get in before the start of the game. If they happen to burst the bubble on a re-entry or a rebuy, the active buy-in will be refunded.
At the moment, Bubble Protection is available for selected tournaments only, including Bounty Hunters (excluding Speed Racers), Daily Guarantees, GGMasters and Omaholic. The tournament must have at least 10 entries to activate the feature. It applies to cash or T$ buy-ins only and does not cover satellite poker games.
If an early bird bubbles the game, WSOP Ontario will credit the refund in T$ to their account. Those who have staking agreements are not required to share the refund with their backers.
Multiple Players Can Be Refunded
Bubble Protection can also cover multiple spots, depending on the number of entrants. For a tournament with 10-99 entrants, one player will get their buy-in back. For 2000-2,999 entries, five players will be refunded. As the field size grows, the number of bubble protection candidates also increases and can go to as high as 10 players (for tournaments with more than 10,000 entrants).
If you're in Ontario, you can get Bubble Protection only on WSOP Ontario. Apart from that, you can take a shot at gold bracelets and rings and win your way into the 2023 WSOP live festival in Las Vegas exclusively at WSOP Ontario.