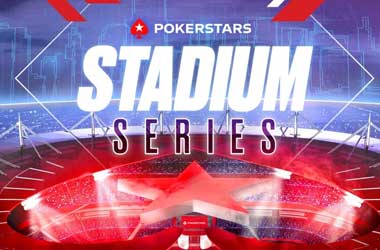 The final day for the PokerStars Stadium Series was on August 4 when the final tables of three Freezeout Grand Finals took place.
The finalists battled it out across three buy-in levels – Low ($55), Medium ($530), and High ($5,200), and in the end, it was Brazil that scored the biggest win, after two of its finest online poker pros dominated both the Medium and High categories.
Here are some of the results of the exciting final night of the month-long PokerStars Stadium Series.
Freezeout Grand Final – High ($5,200 NLHE 8-Max)
A total of 971 entries took part in the event, but only nine players made it to the final table, which was ultimately topped by Brazilian player Fernando "fviana" Viana who walked away with $721,235 in first-place prize following a three-way deal with runner-up finisher Vlada "Vlada2018" Stojanovic who won $553,932, and third-placer Maxime "Daghemuneguu" Chilaud who collected $570,220.
Viana was able to seal his victory via a set-up hand, during which he eventually turned a straight, defeating Stojanovic's turned set. Viana is a prominent poker figure in his home country and is a member of the 4bet Poker Team. While most of his recent successes came from the online circuit, the Brazilian also had significant wins in the live poker arena, including a third-place finish in the $1,500 NLHE Super Turbo Bounty ($116,426) during the 2019 World Series of Poker (WSOP).
Freezeout Grand Final – Medium ($530 NLHE 8-Max)
The final battle in the Medium category concluded in less than four hours, with another Brazilian emerging as the champion. Caio "pessagno" Pessagno took home the top prize after outclassing a massive field of 4,234 entries. He agreed to a three-way deal with eventual runner-up Alexandru "JustPray" Marcu who won $202,586, and third-place finisher "RB Tiger" who earned $202,935. By winning this event, Pessagno was able to hit a career-best online score of $266,006.
Freezeout Grand Final – Low ($55 NLHE 8-Max)
The Low edition of the Freezeout Grand Final was taken down by "Cheessseburger" from the Netherlands. The event attracted the biggest field, as 21,207 players took a shot at a massive $1 million guarantee. A total of $1,060,350 was eventually awarded to in-the-money finishers, with "Cheessseburger" walking away with the lion's share of the prize amounting to $96,029.
"23lovecrew" of Belarus finished second for $76,928, while Hungary's "Pocok85" earned $69,760 for finishing third. All three also agreed to a deal before "Cheessseburger" was declared the winner.