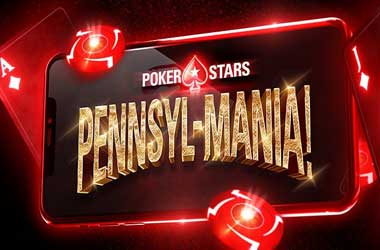 Online poker players in Pennsylvania are looking forward to the weekend as PokerStars PA has announced the return of its popular Pennsyl-MANIA poker festival which will run from Oct 24 to 25 and feature a total of $350,000 in guaranteed prize money.
PokerStars PA has already run for Pennsyl-MANIA poker festivals so far and has had a good response for all four editions.
The Pennsyl-MANIA online poker festival takes place one week before Halloween. PokerStars MI and PokerStars NJ are also running special online poker festivals under the 'Classic' banner during the Oct 24-25 weekend.
In total, PokerStars is giving away $700,000 in combined guarantees across these three states and Pennsylvania is taking the bulk of these guarantees with its $350k prize pool.
The highlight of this weekend poker festival will be the main Pennsyl-MANIA event which has a $300 buy-in. Players who are unable to raise the $300 buy-in can still take part by taking advantage of the numerous satellite events that are running on PokerStars PA. These satellite events start out at just $15.
Apart from these satellite events, PokerStars PA is also running a special freeroll. The poker operator is giving away a total of 50 Pennsyl-MANIA deposit freerolls that must be claimed before the Pennsyl-MANIA events starts on Oct 24.
To claim one of the 50 Pennsyl-MANIA deposit freerolls, players will need to make a minimum deposit of $30 to their PokerStars PA account and enter the code PAMANIA21 to get a freeroll. This promotion is valid for both existing and new players.
Previous Pennsyl-MANIA Editions
PokerStars PA will need a minimum of 1,250 player registrations to hit the $350,000 guaranteed prize pool. PokerStars PA is imposing a 6.66 percent rake on this game which means $280 of the buy-in will go towards the guaranteed prize pool while only $20 will go towards operator fees.
PokerStars PA is confident that it will hit its guaranteed prize pool and event surpass it due to the numerous satellite events and its Pennsyl-MANIA deposit freerolls.
The last time PokerStars PA ran its Pennsyl-MANIA event was in April 2021 when it came out with a $400,000 guaranteed prize pool and surpassed that amount to hit $413,280. The previous edition was in Dec 2020 when Pennsyl-MANIA had a $500,000 guarantee which missed the mark and ended up in a $70,526 overlay.