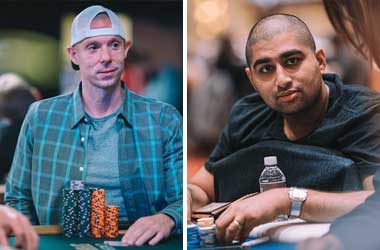 Summary:
Nik Airball recently lost his grudge match against Matt Berkey for $1,029,700
The heads-up battle came about after Airball called Berkey a "scammer"
Airball issued an apology to Berkey days after losing to the Solve for Why founder
Over the weekend, Nikhil "Nik Airball" Arcot lost $1 million to Matt Berkey in their $200/$400 no-limit hold'em match at Resorts World in Las Vegas. Arcot previously called Berkey a "scammer" on Doug Polk's podcast for refusing to play against him.
But following his massive loss to the Solve for Why founder, the Hustler Casino Live (HCL) regular chose to show humility by gracefully accepting defeat and acknowledging that his rival was the better player. He also apologized to Berkey for the negative comments he made against him and his poker training site.
How It Went Down
In an interview with Doug Polk back in March, Arcot was asked about his thoughts on Berkey avoiding competing with him. The high-stakes player did not mince words when he called Berkey a "scammer".
For Arcot, Berkey must be ready to play against anyone given his current status as a "poker coach" and popular pro. Berkey founded Solve for Why, a poker training site that offers streamlined training and poker courses to aspiring players for a monthly or yearly fee.
Berkey was quick to dismiss Arcot's claims and challenged him to a $200/$400 no-limit hold'em heads-up match in Las Vegas. The HCL regular accepted the challenge.
The heads-up battle began in April with Berkey dominating the action right from the start, though Arcot also had some nice runs. The match was supposed to involve 100 hours of play but Arcot decided not to proceed after being in the red for seven figures after less than 60 hours of play over 10 sessions. Under the terms of the match, a player will have the option to call it quits if his losses reach $1 million.
Berkey Accepts Arcot's Apology
The game concluded on May 6, with Arcot recording a total loss of $1,029,700. Shortly after, Arcot tweeted a short congratulatory message for his opponent. It was followed by a longer post on May 10, where he apologized to Berkey for calling him a scammer and for saying terrible things about his business.
My Statement on the HU Match with @berkey11:

First of all, I want to congratulate Matt Berkey on his victory.

There was a lot of shit talking, most of it for fun and to add excitement to the match, but in the end I have to give credit where credit is due. He played well, and…

— Nik Airball (@nikairball) May 9, 2023
He admitted he has a lot to learn as a poker player and as an individual, and promised that he will work on becoming a better person whilst staying true to himself. He described Berkey as a "true professional" who won the game fair and square.
Arcot's apology gained positive reactions from the poker community, with many praising him for showing humility and taking the high road. Berkey accepted the apology and both American poker players are now ready to move on from their rivalry.