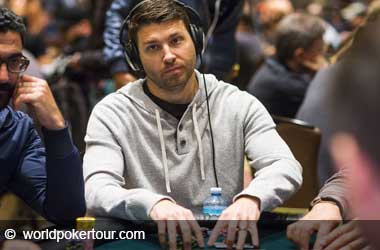 There are hundreds of thousands of poker players from all over the world struggling to make a living because they just can't seem to find the winning formula to be consistent at the poker tables – whether its live poker or online poker.
One poker pro who has managed to find the right formula in 2019 is Colorado poker pro Jeremy Ausmus. He started playing professional poker back in 2005 but like most poker pros found the going tough and did not experience the kind of success he would have liked.
While a lot of poker pros give up along the way, Ausmus decided to stick it out and the decision has paid him well over the years.
CardPlayer
2012 WSOP Main Event Finish – Turned Things Around
Jeremy Ausmus made a name for himself when he made it to the final table of the 2012 World Series of Poker (WSOP) Main Event. He ended up finishing in first place and took home a whopping $2.1 million which changed his life. It wasn't just the money that made his life different but the fact that he took away a lot of confidence from his 5th place finish.
He completed against 6,598 players in the 2012 WSOP Main Event and proved to himself and the rest of the world that he was a good poker player. To prove it wasn't a flash in the pan, he followed it up in 2013 with a gold bracelet at the 2013 WSOP Europe.
Since then, Ausmus has gone to be really consistent at winning and has accumulated more than 140 cashes which has boosted his lifetime winnings to over $7.8 million.
Concentrated Focus – Key To Success
Ausmus has had a great run in 2019 and has won more than $1.4 million this year with 6 final table finishes. He is now in the top 10 ranking for Player of the Year and intends to finish this year on a strong note.
He credits his strong performances in 2019 to him concentrating on just one goal. He decided to play more live tournaments this year and not get distracted by anything else. His concentrated focus is what he credits for securing his top 15 largest career cashouts all in 2019.
Ausmus had a terrible run in 2017 when he was playing mostly cash games. His decision to analyse his play, make changes and concentrate on his goal has paid great dividends for the 39 year old poker pro.