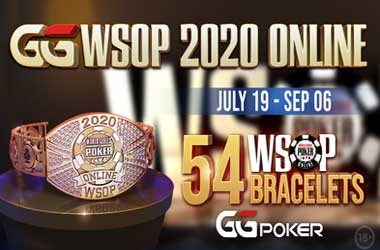 The first set of the 2020 World Series of Poker (WSOP) Online Bracelet Series is coming to a close on WSOP.com, and now all eyes are on GGPoker as it plays host to 54 online bracelet events through to September 6. The action officially kicked off at the online poker site on July 19, but not without some technical interruptions.
A "critical bug" forced organizers to pause two of the first events taking place on the opening day. According to GGPoker, the $100 buy-in "The Opener" drew a massive turnout, along with some side events, causing the software to malfunction.
Because of that, the $1,111 "Every 1 for Covid Relief" had also been affected, resulting in both events being temporarily paused while the glitch was being resolved. The events will proceed on July 26 with The Opener to resume at 2:30 p.m. ET, with the charity event to follow half an hour later on the same day. The remaining players will also keep their current stacks.
GGPoker
Players Disappointed
GGPoker apologized for any inconvenience caused by the server crash and assured everyone they'd add more capacity to accommodate high load and avoid similar issues in the future. It also announced that the events will resume next week, but that wasn't enough to pacify disappointed players, with some asking for a refund of their buy-ins. Among those raising concerns over the delayed re-start is Adam Owen.
The British high-stakes player said there's no point forcing players to wait for a full week to resume the action, considering that a lot of them have traveled from far-away places and have already set their schedules for the bracelet series. WSOP bracelet winner Max Silver also didn't think it was a fair solution especially for players like him who had to juggle multiple commitments. He called on organizers to allow players to get their entry fee back.
One more event, the $525 Super Turbo Bounty no-limit hold'em six max took place on July 19 and ran smoothly, with Shoma Ishikawa walking away with the top prize worth $117.650.
The $1,111 no limit hold'em charity event drew 1,598 players, 1,418 of them will proceed with the action on July 26, with "jack chan" from the Philippines holding the chip lead. Meanwhile, The Opener attracted 29,306 across multiple Day 1s, with 4,594 players advancing to Day 2. When the glitch happened, there were just 3,690 remaining players and they will gather again on Sunday play down to a winner.