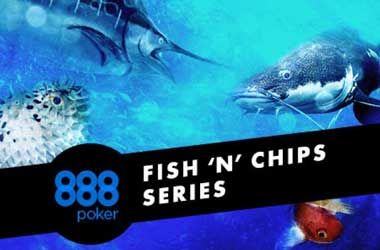 Fish N Chips is one dish that the Brits thoroughly enjoy but it is also appreciated in Europe and Asia.
888poker, the second biggest online poker website in the world launched its "Fish N Chip tournament series" a while ago and it still continues to be a popular offering with online poker players from different parts of the world.
888poker has put together 5 different levels of 'Fish N Chips' to enable poker players with different financial backgrounds to take a crack at their daily list which have different levels of buy-ins and start at different times to enable just about every 888poker player to have an opportunity to get a bite in.
Swordfish: This is the highest level in the 'Fish N Chips' tournament series and comes with a buy-in of $30. If you are looking at winning big money, then this is the way to go as this category has some of the biggest guarantees. Some of the other popular tournaments in this category include the $3,000 Late Night Swordfish; the $2,500 8-Max Swordfish and the $2,500 Turbo Swordfish.
Goldfish: This is the lowest level in the 'Fish N Chips' tournament series and comes with a buy-in of just $1. This is ideal for poker players who don't have a big bankroll and also don't want to spend a lot of time playing one single tournament. Some of the offerings here include the $1,000 Goldfish, the $500 Turbo Goldfish and the $300 Super Turbo Goldfish.
Catfish: This category is somewhere in between and tends to be very popular with most poker players as it gives them affordable buy-ins along with decent guaranteed prize pools. The starting buy-in is from $12 and changes based on the different offerings in this category. Some of the offerings available include the $2,500 Turbo R&A Catfish, $800 Super Turbo Catfish, $5,000 Deepstack Catfish, $1,000 Early Turbo Catfish and the $1,500 8-Max Catfish.
Blowfish: If you are a poker player who likes to start small and work your way up the ladder as your confidence builds, then head straight towards the blowfish category. Buy-ins here start at $5 and the guaranteed prize pool can go up to $1,000. There are two options available under this category and they are the $1,000 Blowfish and the $500 Super Turbo Blowfish.
We must also point out that 888poker also has an online satellite option available for its 'Fish N Chips' series. To find out more information, do check out the 888poker website.