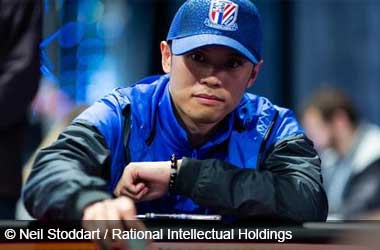 Chinese poker players don't have a lot of opportunity to play poker and improve their skills in Mainland China as poker is banned. That hasn't stopped Chinese poker players from dreaming of winning major poker events such as the World Poker Tour and the European Poker Tour (EPT).
Last year, Haoxiang Wang almost made this dream a reality after finishing as runner-up at the EPT Barcelona Main Event and taking home €1,023,701.
This year, Wang's roommate Wei Huang kept that dream alive after going into the final table at the €5,300 EPT Monte Carlo Main Event. Wang and Huang's performances in international poker events given other Chinese poker players a lot of hope.  
Full Support
While playing poker for money is illegal in China, Wang and Huang are part of an informal group of poker enthusiasts who play the game together purely for fun and learning back in Shanghai.
There was a huge Chinese poker contingent at the EPT Monte Carlo Main Event who were rallying behind Huang and encouraging him to do well. One of these supporters was Chinese poker player Yan Li, who won big at the recently-concluded Asia Pacific Poker Tour Korea stop. Huang had a good run but fell short of winning the Main Event as he was beaten by Manig Loeser from Germany.
Huang walked away with $618,906 for his runner-up victory at the EPT Monte Carlo Main Event, while the champ Loeser netted $676,890.
PokerStars
Big Hopes for Poker in China
The Chinese government has taken a tough stance against poker and many other forms of gambling, launching a series of crackdowns targeting illegal operators. While poker is prohibited in China, a lot of players and fans show great interest and passion for the game. With a limited number of tournaments taking place in the country, some groups have to secretly set-up gatherings or play poker together on an app.
Wang admits that the environment for poker is terrible in China and does not know when things will change. However, this isn't going to discourage him and his fellow poker pros from dreaming big and wanting to win a major international tournament. He believes a massive win such as an EPT victory could change the Chinese government's stance on poker.
Yan Li, a passionate player who has a big dream for poker in China said her goal is to put together some legal real-money tournaments where Chinese poker fans can play and have good time together.