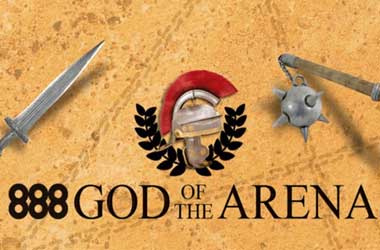 888poker players will be eager to take part in the progressive jackpot tournaments that will be coming to the online poker room on October 11. Progressive jackpot tournaments are a lot like knockout tournaments but there is a unique twist to them. Prizes pools will be split between the regular prize pools and the remaining cash will be distributed as bounties to all of the entrants.
Every time one player knocks out another, that player left standing will receive a portion of the bounty which is credited to their player account and the remaining portion will be added to the value of that player's bounty which will make them a more attractive target for other players.
888Poker is celebrating the launch of this new format by hosting the 'God of the Arena' poker festival which will take place between October 11 and 14. The God of the Arena will feature 12 events and players can get into the action for as little as $5.50 and as much as $320.
Million Dollar Main Event
The $1,000,000 God of the Arena Main Event begins on October 14 and you can enter with a $55 buy-in.
Players will start the tournament with 10,000 in chips and they are allowed to rebuy if they get knocked out during the late registration period which ends 280 minutes after the event gets underway. To get the action flowing, blind levels will increase every 15 minutes.
Win Your Way Into The Main Event
There will be a lot of opportunities to qualify through real-money satellites but players can also win their way into the main event by competing in 888poker's daily $1M God of the Arena Main Event Qualifier for free. These free qualifiers will be held until October 13 and each one will have 100 tickets with a value of $55 awarded.
It's easy to get your ticket into one of these daily freerolls if you actively play in tournaments. A ticket is awarded any time a player knocks out at least 2 opponents in any of 888poker's sit-and-go or tournaments that have buy-ins of at least $1. If you qualify for the freeroll then you have a great chance of winning your way into the God of the Arena Main Event. It should be noted that BLAST tournaments are excluded from this promotion. Players can win up to one freeroll ticket per day until October 13.