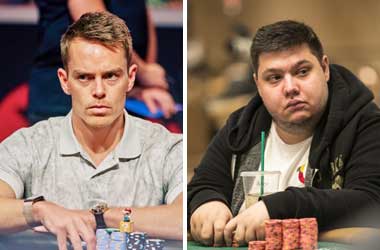 Summary
Jørstad said he couldn't remember swapping with Theologis
Theologis claimed he had swapped 3% with the Main Event champ
Fellow poker pros believe there was no swap as there was no evidence
Espen Jørstad, the winner of the 2022 World Series of Poker (WSOP) Main Event, finally spoke out about a recent swap dispute involving his name. In a lengthy post on social media, the Norwegian poker pro said he doesn't remember ever agreeing to a swap with Alex "Pwndidi" Theologis.
Jørstad was prompted to share his side of the story after he was approached by a "clearly intoxicated" man while participating in a meet-up game in Cyprus last week, aggressively telling him to pay Theologis his poker money. Things were eventually sorted out after Jørstad explained to the drunken Irish man that he didn't owe Theologis any money. Jørstad said he was put in a very uncomfortable situation.
The following post is regarding a swap dispute with community member Alex Theologis, aka Pwndidi. After (cont) https://t.co/2Ypahi8V4N

— Espen Uhlen Jørstad (@UhlenPoker) August 29, 2022
No Recollection of Main Event Swap
The man was referring to the supposed swap deal that Theologis claimed he had with Jørstad back in July, though the Greek player failed to write it down and couldn't remember when and where the agreement took place. He claimed he had swapped 3% with Jørstad in the 2022 WSOP Main Event and if his claims were true, then he should have been entitled to a share of $300,000 from Jørstad's $10 million payout.
However, Jørstad maintained he had no memory and no records whatsoever about the swap. He said that whenever he swaps with people in any tournament, he always writes it down and confirms it via chat. Theologis couldn't provide evidence of the swap either, and so Jørstad believes there was clearly no swap.
Jørstad also said that he and Theologis went on to meet at a hotel in Las Vegas to discuss the matter, with Theologis also consulting Patrick Leonard about it.
Jørstad has received the support of the poker community on the issue, with several pros siding with him, including Fedor Holz who said there's no swap if there's no recollection and no record. Scott Ball, Allen Kessler and Ian O'Hara also share the same views. Leonard understands where both players are coming from but he also believes there was no swap due to a lack of accountancy.
Jørstad ended his post by saying he's giving Theologis the benefit of the doubt on the matter. The Greek player has since responded, saying that while he firmly believes a verbal swap took place, he respects Jørstad's opinion. Theologis said he is no longer asking for the money and has now moved on.