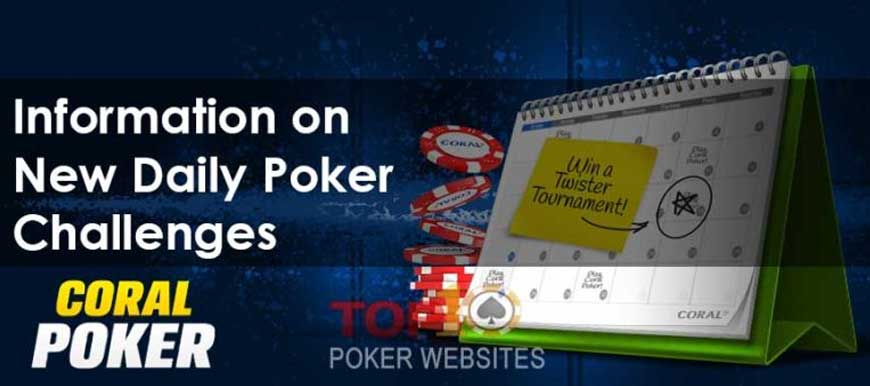 Staying loyal to just one poker site is also going to benefit you as a poker player, and one site that is famed for rewarding their poker players with some excellent promotional offers is Coral Poker. Their state of the art poker software platform will see you being able to play a myriad of different poker variants for all manner of different pot limit or even no limit poker games too.
One promotion that is running until the foreseeable future and until further notice at Coral Poker is their Daily Poker Challenge, and this is your chance to take part in a large range of daily poker missions on which you are going to have the chance of winning all manner of extras!
PokerVIP
Below you will find an overview of just what each poker challenge will require you to do on any given single day of the week, and remember they are running 7 days a week and you are more than welcome to take part in any of them! By taking part in the following challenges you can win direct entry tokens into some huge prize pool paying tournaments or get a free bet to use or even get some special game related tokens to use.
Monday – The Monday challenger is the Twist Again challenge and you need to play just five €1 Twisters and then you will get a daily mission token the following day.
Tuesday – By taking part in the daily challenge on a Tuesday you will be playing their Bounty Hunter challenge on which you need to play in the Coral Nightly Bounty poker game and by doing so you will receive a free Festival Satellite token the following day.
Wednesday – It is on each Wednesday that Coral Poker holds their Dublin Fair City challenge on which you have to play in their Dublin Festival €10 Satellite and will receive a free €10 bet the following day!
Thursday – By you taking part in the Plenty for Twenty challenges on a Thursday you simply need to spend €20 or more on MTT's throughout the day and by doing so you will then be credited with a daily mission token for the following day!
Friday to Sunday – It is going to be on Friday through to Sunday each week you can take part in the special High Roller Challenge at Coral Poker, this requires you to wager €£2000 on their range of poker slots to get a €50 general token.
Also they are running a Slots of Luck challenge on Friday's through to Sundays and by wagering €500 on their poker slots you will get a €10 general token awarded to you.
Please do checkout the Coral Poker website for more details on all of the above Daily Challenges and also if you want to learn more about their many different poker games such as Texas Hold'em Poker or Omaha Poker games for example you will find some very informative and educational game guides on their website too so do take a look!