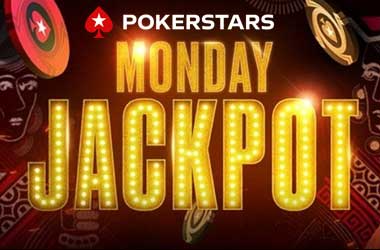 Summary
PokerStars just launched Monday Jackpot for its US players
The tournament's guarantee increases every time it is hit
Its US debut was a huge success and guarantees are expected to rise by at least $1,000 next week
PokerStars has rolled out a new tournament promotion for its players in the US, allowing them to compete for bigger guarantees each week. The promo applies to the operator's latest weekly tournament offering called "Monday Jackpot", which is now live across all of PokerStars US markets – New Jersey, Michigan and Pennsylvania.
Monday Jackpot Weekly Progressive Guarantee
The Monday Jackpot promo kicked off on February 27 and will run every Monday. Each time the tournament reaches the required number of players, the guarantee will be increased for next week. The amount that will be added to the guaranteed prize money will depend on the players' turnout in the tournament's previous edition.
Monday Jackpot is a 9-handed tournament that costs $10 to enter. Players sit down with 10,000 chips played to eight-minute levels. The tournament allows unlimited re-entries.
For the merged pool between New Jersey and Michigan, Monday Jackpot has a starting guarantee of $5,000. In Pennsylvania, players will initially compete for $3,000 in guaranteed prize money.
The February 27 edition of the tournament was a success, with the NJ/MI network attracting 879 entries to create nearly $8,000 in total prize pool, surpassing the initial guarantee by 60%. In PA, Monday Jackpot's debut also performed well, generating a total prize pool of $4,340.70 after drawing 477 entries.
The exact amount that will be added to the guarantee on March 6 is unknown, but PokerStars could increase the prize by at least $1,000.
Apart from boosted guarantees, players can win extra via random prize drops from PokerStars. Additional prizes come in the form of casino bonuses, with the US poker operator giving away more than $1,000 in Casino bonuses every week.
Progressive Guarantee Adopted by Multiple Operators
PokerStars isn't the first operator to introduce progressive guarantees in tournaments. The concept was tried before by several online poker rooms, including offshore US-facing sites WPN and Merge Gaming.
WSOP also adopted the idea in 2020 for its "Keep It 100" tournament which saw the operator adding $5,000 to the prize pool every time the $100K target was hit. 888poker also had a similar concept in its Rake or Break tournaments in 2019.
While PokerStars just launched Monday Jackpot in the US, the tournament actually debuted in the site's Italian market in April 2022. It runs as a monthly tournament with an initial guarantee of €50,000. After several months of hitting the target, the prize pool reached €120,000 at one point before going back to five figures in November.