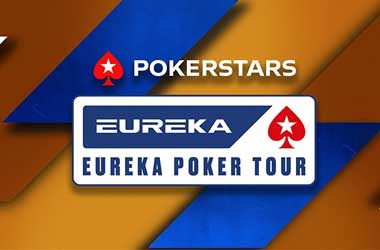 Summary
PokerStars Eureka Poker Tour offers $1.25 million in guarantees
King's Casino Rozvadov is playing host to the Eureka Poker Tour
Eureka Poker Tour attracting a lot of eastern European poker players
The Eureka Poker Tour which is sponsored by PokerStars started on March 13 and will run till March 20. King's Casino Rozvadov in the Czech Republic is playing host to the PokerStars Eureka Poker Tour.
2023 PokerStars Eureka Poker Tour
King's Casino Rozvadov has the biggest poker room in Europe and is known for hosting some of the biggest and most popular poker festivals in Europe. The PokerStars Eureka Poker Tour is currently attracting a lot of poker players from Eastern Europe who want to have a crack at the guaranteed prize pool of $1.2 million.
The Eureka Poker Tour is broken down into three key events and the $1.2 million guarantee is spread across these three events. The festival started out with the Eureka Cup which started on March 13 and concludes on March 17. The buy-in for this event was €330 and had a guaranteed prize pool of €150,000.
The second event is the Eureka Main Event which runs from March 16 to March 20. It comes with a €1,100 buy-in and offers up a massive €1 million guarantee. There is also a special event for high stakes poker players. The Eureka High Roller is set to take place from March 19 to March 20 and comes with a €2,200 buy-in and a guaranteed prize pool of €100,000.
Multiple Ways To Qualify For These Events
The buy-ins for the Eureka Main Event and Eureka High Roller events are suitable only for poker players who have a thick bankroll. If you would like to take part in any of these events but have a small bankroll, you should take advantage of the different options available to qualify for these events!
If you are able to show in person at King's Casino Rozvadov, then you can take advantage of the live satellite events that will run throughout the Eureka Poker Tour festival. These live satellite events will start a couple of hours before the day commences. However, if you are unable to show up in person, you can head over to the PokerStars app and take part in online satellite events that start as low as €0.27. Check out the PokerStars site for more info.