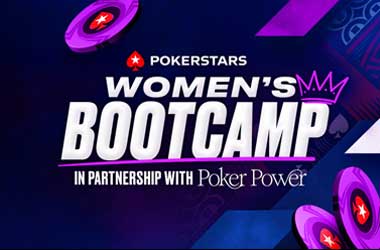 Summary:
The Women's Bootcamp will take place from July 31 to September 28
The program is aimed at beginners who want to improve their poker skills
The bootcamp culminates in a poker showdown where the winner wins an EPT Prague Main Event package
In recent years, the poker industry has been stepping up efforts to attract more female players by running various initiatives focused on female players.
Among the operators active in this aspect is PokerStars which recently announced the return of Women's Bootcamp in partnership with Poker Power, a community led by women for women.
Women's Bootcamp Returns
In 2022, PokerStars joined forces with Poker Power to launch the Women's Bootcamp, a program designed for women who are passionate about poker and aim to improve their skills and build connections along the way.
The inaugural bootcamp was a huge success, with Canadian police employee Roxanne Johnson having the experience of a lifetime after getting the chance to compete in the prestigious PokerStars Players Championship (PSPC) via a $30,000 Platinum Pass awarded to her during the bootcamp.
Now, PokerStars and Poker Power are once again shining the spotlight on women, with the 2023 bootcamp scheduled to run from July 31 to September 28. The program involves eight learning modules: determination, discipline, ambitious, calculated, resilient, fearless, visionary and indomitable.
The eight-week bootcamp is targeted at beginners who want to learn key skills in poker that also prove essential in the real world, such as strategic decision-making, capital allocation, and negotiation. The participants will be mentored by PokerStars ambassadors, including Georgina "GJReggie" James and Jennifer Shahade. They can also put their skills to the test by playing in PokerStars Home Games.
The bootcamp culminates in a special tournament in which those who make it to the final table will compete in the PokerStars x Poker Power Women's Bootcamp Showdown which will run as part of the European Poker Tour (EPT) Cyprus. The winner will receive a package to the EPT Prague Main Event.
Applications Open Until July 22
Those keen on joining the bootcamp have until July 22 to apply. They are required to fill out a form via Google Docs. Applications will be screened by both PokerStars and Poker Power and the selected participants will be announced after the closing date of the application.
Johnson, the 2022 bootcamp winner, ended her bootcamp journey with plenty of knowledge about the game. She acknowledged that while poker is a game that anyone can play, succeeding in it requires continuous learning. The police employee is now part of the poker media, covering the 2023 World Series of Poker (WSOP) for Canadian poker players.