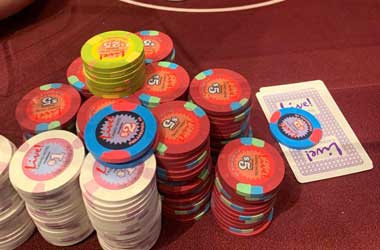 A new poker venue is set to welcome players in Western Pennsylvania, pending approval from the Pennsylvania Gaming Control Board (PGCB). Live! Casino, located in Greensburg, has revealed plans to open a new poker room in 2022 and is now training poker dealers.
The new 1,400 square foot room will house seven tables and will be located beside the casino's sports-themed restaurant, the Sports & Social Steel City. Western Pennsylvania will now become home to three poker rooms, including those at Hollywood Casino at the Meadows Racetrack, and Rivers Casino in Pittsburgh.
The addition of a third poker room in Western PA is a positive development for the region, given that players in the area have limited options when it comes to playing live poker. Rivers and Hollywood Casinos are the only ones offering poker in and around Pittsburgh, both of which have yet to return to their normal operations since the COVID-19 pandemic.
Rivers Casino is running live games daily, but has yet to bring back their daily tournaments. Prior to the pandemic, the poker room held two tournaments each day, with the major ones taking place during weekends. While the casino currently has no plans to restart their daily tournaments, they could begin hosting monthly events in December, according to an employee.
Hollywood Park also decided to drop their daily tournaments when COVID-19 happened and the management also has no plans to reinstate them. Depending on the number of players interested, the room may run Sit & Go tournaments.
The region's poker market has always fallen behind other places like Philadelphia even before the pandemic hit. At the moment, players can't find any decent tournament schedule in Pittsburgh, but the scene is very much different in Philly where daily tournaments are in full swing.
Whether Rivers and Hollywood Park will bring back their daily tournaments remain uncertain, but the presence of a third room in the region is expected to stimulate the market and encourage US operators to improve their poker offerings.
About Live! Casino
Live! Casino is owned by real estate, entertainment, and casino company Cordish Companies which was established in 1910. Its Greensburg casino launched operations in November 2020 and was one of four mini casinos to obtain approval in 2018. These casinos are only allowed to offer a maximum of 40 table games and 750 slot machines. Live! Casino also operates in Baltimore and Philadelphia, both of which also run poker games.