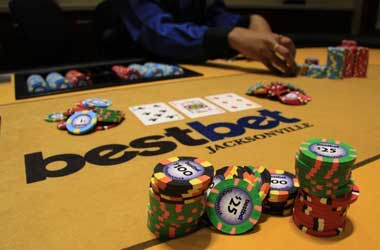 The bestbet casino chain has built a reputation for itself in Florida for hosting some of the hottest poker action in the state.
One of the reasons for bestbet gaining a reputation for being a hot poker destination is due to the efforts of Jesse Hollander who is the Director of Poker Operations at both bestbet Orange Park and bestbet Jacksonville Hollander runs both poker rooms and is in charge of all aspects of the business including staffing, promotions, advertising, marketing, hosting tournaments and increasing the number of patrons who visit the poker rooms.
Florida made a number of changes to its gaming regulations back in 2010 and it was then that the bestbet team decided to recruit a new management team.
Hollander came on board as part of this new management team and had to quickly cope with the new betting laws in Florida that allowed uncapped buy-ins and betting for the first time in the state. He spent a lot of time recruiting and training his poker team and over the years has established both poker rooms to be places where the hottest poker action is available.
In a statement, Hollander said
We do a lot with cash promotions and tournaments to keep our existing players coming back and we have started some new marketing campaigns like "Poker 101" to attract new players. We host several large tournament circuit events throughout the year that draw players from all across the nation.
bestbet Jacksonville
The casino runs a number of competitive satellite programs to offer their regular patrons a chance to play at some of the bigger poker events which the poker room hosts without having to invest and pay the entire buy-in.
bestbet hosts both World Poker Tournament and Mid-States Poker Tour circuits which, according to Hollander, is very exciting for local players as it offers them a chance to play with some of the greatest poker players.
According to Hollander, the thing that sets apart bestbet Jacksonville from other casinos in the city is the atmosphere of the poker room, saying that the casino's management team worked hard every day to make the poker room a great place to enjoy the game.
Hollander also said that one of the reasons for the popularity of bestbet Jacksonville's poker room was due to the comfort it gave its players. The poker room is spacious and offers 82 well-spaced tables for its players. Players who play in its poker room are certain to find the dealers experienced and dealings fair.