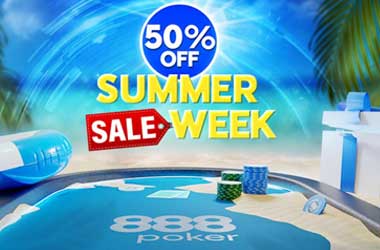 Summary:
The new Summer Sale promotion runs from June 19-26
A total of 17 events during the week will have their buy-ins cut by half
The main highlight will be the $55 buy-in, $100K GTD Mystery Bounty Main Event
June is shaping up to be a huge month for players on 888poker with the launch of new promotions, the latest of which is the "Summer Sale Week". Kicking off on June 19, the promo will see the buy-ins of multiple tournaments cut in half while the guarantees stay the same.
This provides massive value for players, especially those who have always been eager to take a shot at some of 888poker's key tournaments but have not been able to do so as they can't afford the buy-in.
Summer Sale Week – Key Details
From June 19-26, 888poker is slashing by half the buy-ins of each of the 17 events running throughout the week, but the guaranteed prize pool will remain unchanged. That means players will still be able to compete for up to $300,000 in combined guarantees during the week while enjoying a huge discount on the entry fees.
Many of the events on the schedule have $10,000 in guaranteed prize money, including the Monday Big Shot which has an original buy-in of $215. On June 19, players can take a shot at this tournament for only $109.
Two other buy-in versions of the Big Shot are spread out across the week – $160 ($12,000 GTD, originally priced at $320), and $265 ($30,000 GTD, originally priced at $525) – promising huge value to players.
Those on a budget can take advantage of multiple Mystery Bounty events which originally cost $22 to enter but are available for only $11 during the Summer Sale Week. For that affordable buy-in, players can win their share of the $10,000 guaranteed prize pool.
Fans of progressive knockout (PKO) will be delighted to know that the format is also included in the promotion. The PKO Rumble has three buy-in options, $320 ($30,000 GTD), $109 ($10,000 GTD), and $22 ($7,000 GTD). But throughout Summer Sale Week, the prices drop to $160, $55, and $11 respectively.
Summer Sale Mystery Bounty Main Event
The main highlight of the Summer Sale Week is the Mystery Bounty Main Event which players can enter for only $55, down from its original buy-in of $109. The event keeps its $100,000 guarantee and takes place on June 25. The final table will play down to a winner on June 26.
Players may secure a free ticket to the Main Event by tuning in to 888poker's Twitch channel on June 19. On that day, 888poker will be awarding $55 Main Event tickets to five lucky players.