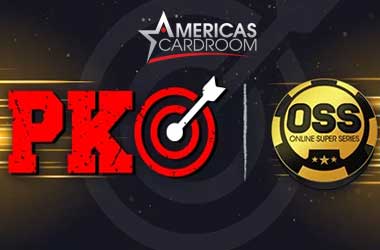 America's Cardroom (ACR) recently encountered technical issues while holding its Progressive Knockout Online Super Series (PKOSS).
This led to the site ultimately deciding to cancel three of the final events of the series which were supposed to play out this week. ACR subsequently announced that it will issue Independent Chip Mode (ICM) payouts and bonus tournament tickets to the affected players.
Day 2 of the three PKOSS events were originally scheduled to take place on Monday, with Day 3 slated to run on Tuesday, but they were suspended due to technical issues.
ACR contemplated delaying the action until next week as its technical team still needed more time to fix the problem. But knowing that some players may not be able to participate in the rescheduled finale due to other commitments, ACR ultimately decided to drop the events.
To compensate each of the affected players, ACR will issue payouts based on their ICM chip counts, in accordance with ACR's standard terms and conditions regarding cancelled tournaments. The bounties will also be refunded, and each of the impacted players will be given free entry into a future event with an equal buy-in to the cancelled tournament.
The cancelled events were Event #137 ($630 buy-in, $2.5M guarantee), Event #138 ($215 buy-in, $1M guarantee), and Event #139 ($16.50 buy-in, $250K guarantee).
ACR Promises To Do Better Next Time
PKOSS got underway on May 9, with a massive $25 million in guaranteed prize pool. It is the biggest poker festival ACR has held to date. The entire series featured 146 different events, with entry fees ranging from $6.60 to $1,050.
Overall, the festival exceeded expectations, easily surpassing its initial guarantee, but its success has been tainted by a sudden glitch which for some reason could not be resolved quickly, resulting in the cancellation of multiple events.
While ACR did the right thing by issuing payouts, refunds, and bonus tickets to the affected players, many were still left disappointed with the technical issues which occurred right when players were close to reaching life-changing money.
ACR certainly didn't see that coming, but what's important is that the team did their best to pacify the situation. They offered their sincere apologies and promised to make things better in the future and prevent similar issues from happening again. Chris Moneymaker, who currently represents the brand, has been active relaying the site's latest announcements and updates on social media regarding the cancelled events.